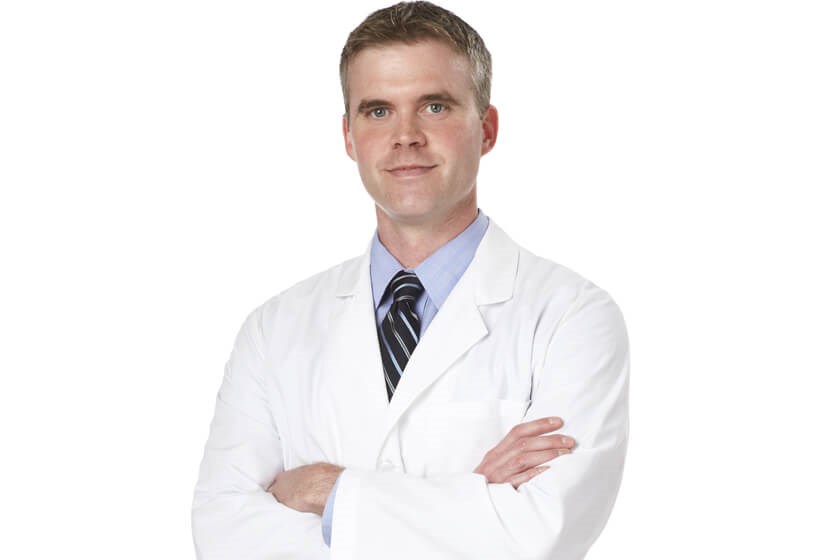 Dr. Brody Flanagin is a Dallas area board-certified orthopedic surgeon specializing in arthroscopic, reconstructive and replacement surgery of the shoulder. Dr. Flanagin treats a wide array of shoulder conditions and combines minimally invasive, cutting-edge techniques and traditional open surgical approaches in order to help his patients achieve a pain-free, active lifestyle. He believes in providing personal and compassionate care in order to meet the individual needs of his patients.
Dr. Flanagin earned his medical degree at the University of Chicago Pritzker School of Medicine before completing his residency in orthopaedic surgery at the Yale University School of Medicine. He was then selected for the prestigious Baylor/WB Carrell Clinic Shoulder & Elbow Surgery Fellowship with Dr. Sumant "Butch" Krishnan and Dr. Buz Burkhead in Dallas, TX, which is certified by the American Shoulder and Elbow Surgeons society. Following his fellowship, Dr. Flanagin spent additional time with Dr. Gilles Walch and Professor Pascal Boileau in France learning advanced shoulder reconstruction techniques before starting his practice. In addition, he is the author of several peer-reviewed scientific papers and book chapters and has presented at national meetings.
Dr. Flanagin diagnoses and treats disorders of the shoulder. Dr. Flanagin is able to get many of his patients back to a pain-free lifestyle with nonsurgical treatment. However, when surgery is necessary, he uses both minimally invasive arthroscopic and open shoulder surgery to repair damaged ligaments, tendons, and bones.
Having studied with some of the most esteemed shoulder surgeons in the world, Dr. Flanagin spent a number of years training, learning advanced shoulder reconstruction techniques before starting his private practice. Some common conditions Dr. Flanagin treats includes rotator cuff tears, shoulder dislocations, shoulder arthritis, shoulder fractures, AC joint injuries/dislocations ("separated shoulder"), frozen shoulder, and biceps tendon injuries. He utilizes the latest advancements in orthopedic surgery including arthroscopic ("minimally invasive") shoulder surgery, anatomic and reverse total shoulder replacement, AC joint reconstruction, arthroscopic stabilization for dislocations, and modern techniques such as the Latarjet procedure for traumatic anterior instability. He also specializes in revision ("redo") shoulder replacement surgery.
2015 Lab Faculty, San Diego Shoulder Institute Annual Meeting
2014 Lab Faculty, Orthopaedic Summit 2014: Ultrasound Injection Workshop of the Hip, Shoulder, Foot & Ankle
2014 Lab Faculty, San Diego Shoulder Institute Annual Meeting
2014 Lab Faculty, Current Solutions in Shoulder and Elbow Surgery Pre-Course Cadaveric Lab
2017 Chicago Trauma Symposium, "Breakout Session: Current Shoulder Trends"
2017 Chicago Trauma Symposium, "Debate: Complex Proximal Humerus Fractures – ORIF vs Reverse Arthroplasty"
2017 Chicago Trauma Symposium, "Role of Arthroscopy in Shoulder Trauma
2017 Texas Orthopaedic Association Annual Meeting, "Shoulder Controversies: Massive Irreparable Rotator Cuff Tears"
2015 San Diego Shoulder Institute Annual Meeting, "TSR/Reverse Cadaver Lab: Tips for Revision"
2015 San Diego Shoulder Institute Annual Meeting, "A Potpourri of Reverse Cases and Decisions"
2015 Baylor University Medical Center at Garland Family Medicine Residency Education Seminar, "Knee Pain"
2015 Baylor University Medical Center at Garland Community Education Symposium, "Finding Freedom from Shoulder and Elbow Pain"
2015 Baylor University Medical Center Community Education Symposium, "Finding Freedom from Shoulder and Elbow Pain"
2014 Baylor Institute for Rehabilitation CEU Seminar, "Shoulder Injuries: Surgical and Conservative Treatment Options"
2014 Baylor Scott & White Health Triage and Primary Care of Orthopedic Injuries Conference, "Shoulder and Elbow"
2014 Baylor University Medical Center Community Education Symposium, "Finding Freedom from Shoulder and Elbow Pain"
2014 Baylor University Medical Center at Garland Family Medicine Residency Education Seminar, "Shoulder Pain"
2014 Baylor University Medical Center Practical Updates for Primary Care, "Shoulder Pain"
2014 AAOS Annual Meeting Instructional Course Lecture, "Rotator Cuff Repair Techniques"
2013 San Diego Shoulder Institute Annual Meeting, "Case Presentations"
2013 Current Concepts in Joint Replacement Spring Symposium, "Surgical Reconstruction of Lesser Tuberosity Osteotomy: Macrame"
2013 Current Concepts in Joint Replacement Spring Symposium, "Convertible Stems in Joint Arthroplasty: Is It Really a Bright Idea?"
2013 Current Solutions in Shoulder & Elbow Surgery, "Clavicle Fractures"
2013 Current Solutions in Shoulder & Elbow Surgery, "Proximal Humerus Fractures: Case Presentations & Complications"
2010 Grand Rounds, Department of Orthopaedics and Rehabilitation, Yale University School of Medicine, "Total Hip Arthroplasty in Developmental Dysplasia of the Hip"
2009 Grand Rounds, Department of Orthopaedics & Rehabilitation, Yale University School of Medicine, "Benign Bone Tumors"
LICENSURE & CERTIFICATION
2015 ABOS Part 2 (Board Certified)
2012 ABOS Part 1
2012 Texas Medical License
2012 Federal DEA License
1st place, Resident Anatomy Competition, Department of Orthopaedics & Rehabilitation, Yale University School of Medicine
Resident/Fellow Paper Award, Eastern Orthopaedic Association
Journal of Orthopaedic Trauma Best PGY3 Orthopaedic Teaching Resident of the Year, Department of Orthopaedics & Rehabilitation, Yale University School of Medicine
Gold Humanism Honor Society, University of Chicago Pritzker School of Medicine
Graduation with Highest Distinction, University of Michigan
James B. Angell Scholar, University of Michigan
Golden Key National Honors Society
University Honors, University of Michigan
First Year Chemistry Achievement Award, Department of Chemistry, University of Michigan
Class Honors, University of Michigan
William J. Branstrom Freshman Prize, University of Michigan
Professional Affiliations
Candidate Member, American Shoulder & Elbow Surgeons
Fellow, American Academy of Orthopaedic Surgeons
Diplomate, American Board of Orthopaedic Surgeons
Associate Member, Arthroscopy Association of North America
Editorial Board, The American Journal of Orthopedics
Manuscript Reviewer, Journal of Shoulder & Elbow Surgery
Texas Medical Association/Dallas County Medical Society
Texas Orthopaedic Association
Medical Privileges